This is a very common problem. In a survey of over 25000 owners 41% said their dogs showed mild to moderate fear when going to the vet and 14% showed extreme fear. In other studies up to 80% of dogs were reported to be fearful at the vets. This runs counter to our experience at Halifax where about 80% of the dogs are dragging their owners in the door!
How is Halifax different?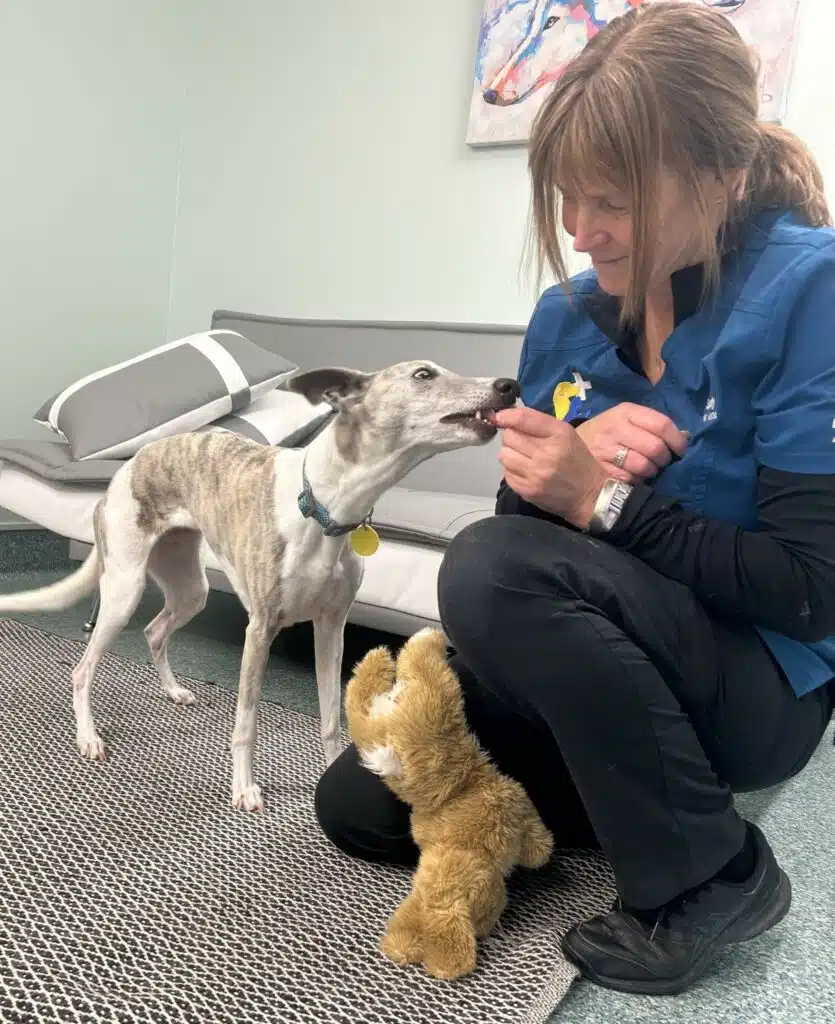 We offer a free 'welcome' visit to new puppies and kittens. One of our vet nurse team spends up to an hour reviewing all the important things clients need to know about caring for this new member of the family. Getting off to a good start makes everything so much easier.
Puppy classes are important. Ever since Duncan Graham pioneered Puppy Preschool (we called it Puppy Plunket back then) in New Zealand at Halifax in 1993 we have had generations of puppies come through. They have fond memories of mixing and playing with a bunch of other young pups. They learned many basic skills with lots of encouragement and treats and most have continued to associate Halifax with food and fun.
Dogs continue to be rewarded with treats every time they come into Halifax. Most run to the weighing platform and sit and drool expectantly as they wait for their treat and a pat. Many clients have built bringing their dog with them into their routine when they come in to get food or parasite control. This makes veterinary visits a natural extension of the routine.
Cats don't normally enjoy trips in the car but we do have the Cat Sanctuary area at the east end of the reception area. This is a quieter spot away from dogs. There is cat cage shelving so cats can feel hidden and safe. The reception team are ready with the calming pheromone spray Feliway for stressed cats.
At Halifax we also sit for veterinary consultations. This feels natural and relaxing for clients and vets. The pets take their cue from us and typically relax too. Halifax founder Tim Barraud introduced me to this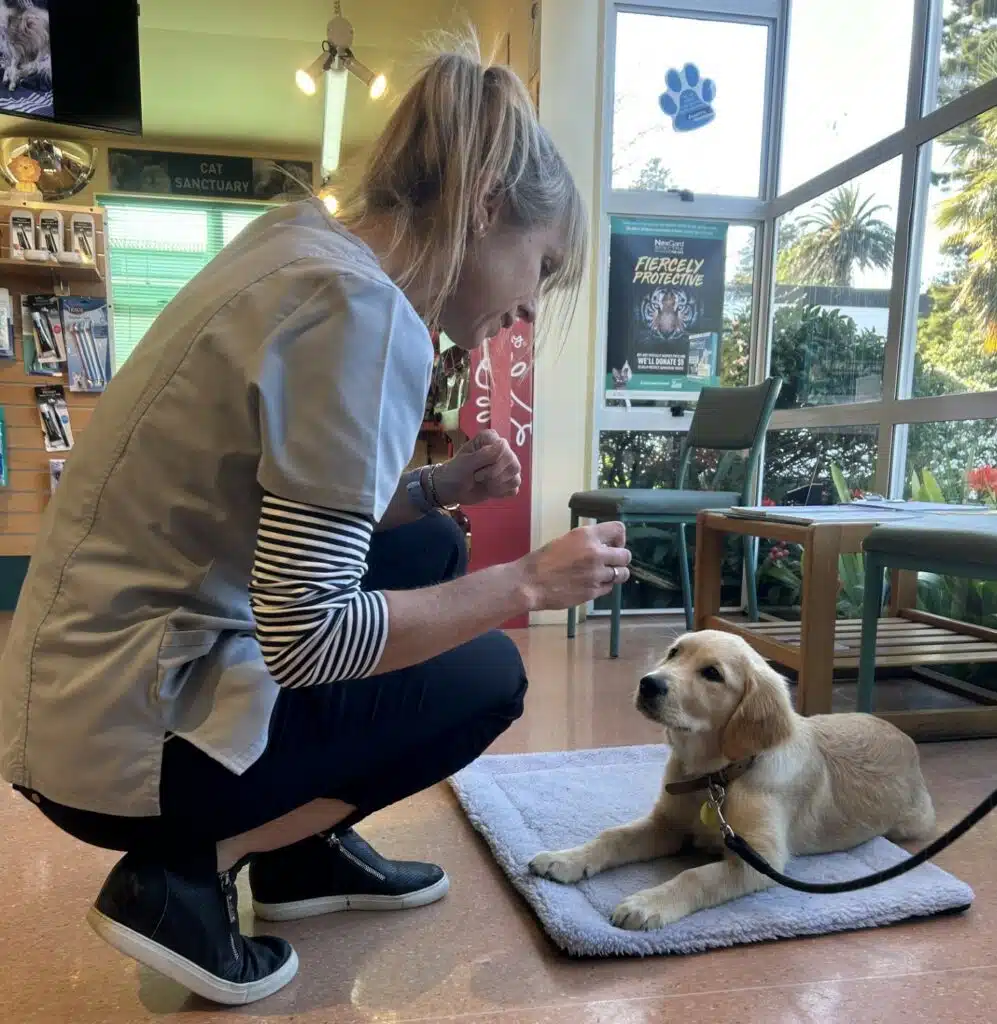 concept, so different to how most veterinary practices are run. If dogs show signs of anxiety we avoid eye contact but quietly offer treats without giving overt attention till they settle. Meanwhile we can get a better idea of the reason for the visit from the client.
Our standard visits are also a bit longer than most other practices – 20 minutes instead of the usual 15. Not having to be rushed is much less stressful for our patients. This also gives us time for a more thorough examination. Many pets have health needs their owners are unaware of. Often these health needs are important to the lifetime well-being of the pet. For more complex problems the receptionist will schedule 40 minutes
We also customise entry and sedation for the very anxious pets coming in for surgery. We have a separate entry consult room as a calm space for clients to sit with their pets as they relax with the sedation. This is particularly helpful for those pets who get very upset when separated from their pet-parent. We have two of these admitted today as I write.
Chill Protocols work well for cats and dogs
For those pets who are anxious or fearful coming to see us we recommend using a chill protocol. This involves using one or more prescription drugs to reduce anxiety and fear. We use different combinations of drugs depending on the pet and its level of fear and distress.
We see big benefits for our anxious and fearful patients. The anxiety, tension, stress and fear are largely or even completely abolished.
This completely changes the experience for you as a client. The visit can be stress-free and pleasant instead of an anxious nightmare.
It makes our job easier too. We are very reliant on a careful physical examination to diagnose many problems. In a relaxed patient we can learn a great deal. When pets are tense and fearful we are unable to learn much. Examining mouths, eyes, ears, feet and limbs, or palpating abdomens can be impossible. Simple diagnostic tests or treatments are often out of the question without more expensive sedation.
Amber's story illustrates the difference a Chill Protocol can make: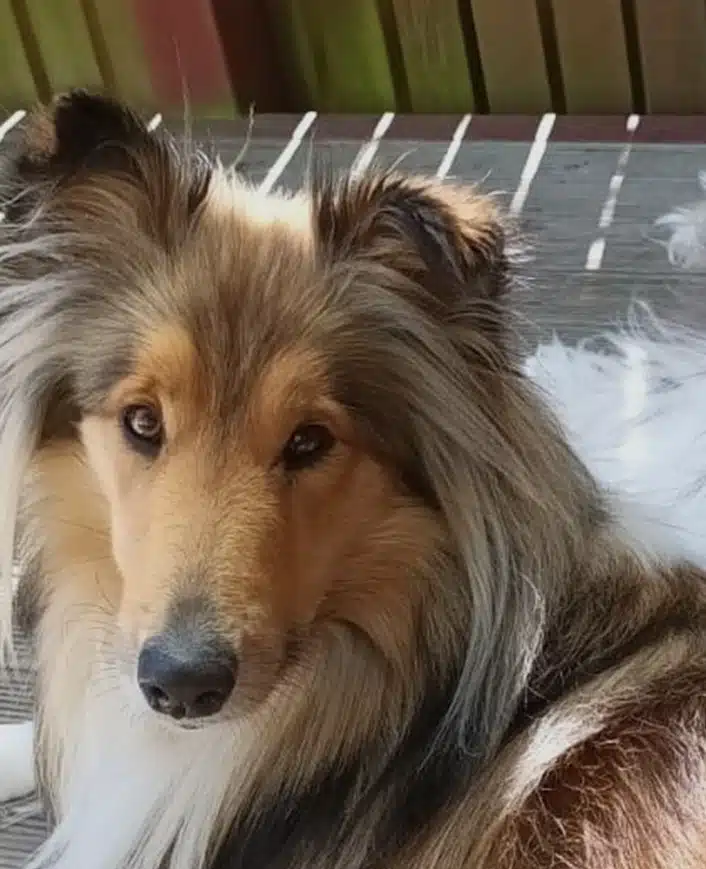 My beautiful Rough Collie, Amber, has had a tough time of it lately after being attacked by another dog near our home. Since the attack she has experienced anxiety and, even though the medication she is on helps, anything 'different' sends her anxiety through the roof. 
The last time I took Amber to Phillipa (vet) at Halifax Vets she was a dithering, highly anxious dog that we could not even get out of the car. She was so uncomfortable; it was painful for me to see. In turn this increased my own anxiety; not an ideal situation!
This time I was recommended the Chill Protocol for Amber's yearly vaccination. It was incredibly easy to administer (just some tablets and a liquid syringed into her mouth) and this was done at home. By the time we were ready to leave for the appointment she was a bit wobbly on her feet but definitely relaxed. When we arrived at the vet it was a very different scenario to the last time we were there! Amber jumped out of the car and trotted in without any hesitation. It was like she had a weight lifted from her and she could just do 'normal' things. 
Amber sailed through the vaccinations but we were not so sure as to how the nail clipping would go. She handled it like a pro! Phillipa was able to cut ALL of her nails whilst Amber happily took treats from me. I was gobsmacked and incredibly impressed with the power of the Chill Protocol. It made the whole experience one of pleasure, rather than nerves and anxiety. From now on I will be using this support every time I need to take Amber to Halifax Vets. 
Cath Dyson
How to arrange Chill Protocol medication
If your pet is anxious and fearful about going to the vet make life easier for yourself and your pet. Phone and arrange Chill Protocol medication. This is straightforward if you are a regular client and your pet has visited us in the last 3-6 months. If it is longer than that a veterinary phone consultation might be needed.
Hans Andersen BVSc MANZCVS