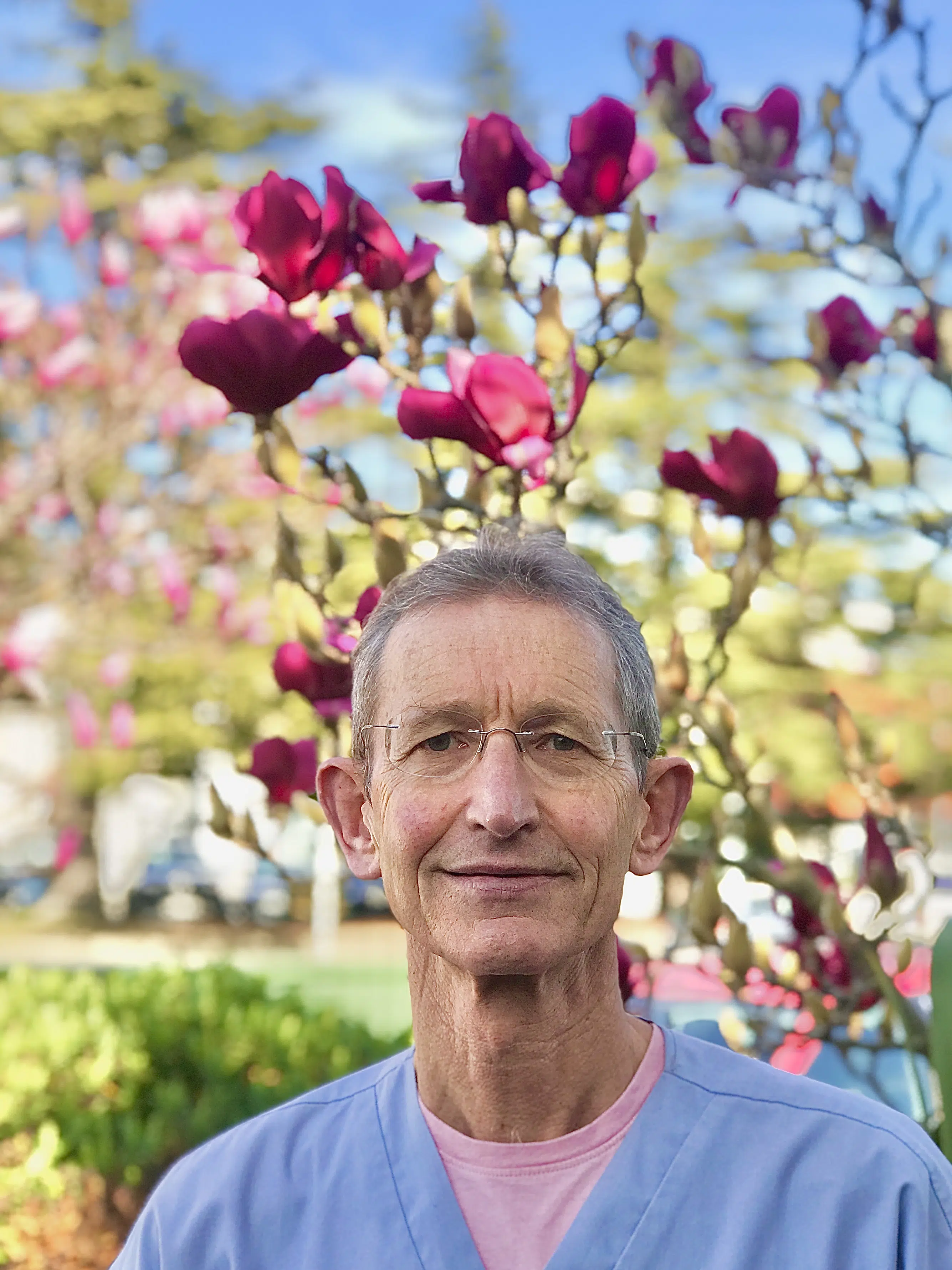 Hans Andersen
BVSc, MANZCVS
More than 44 years in the job and Hans is still enthusiastic about the working day. "There is never a day when I am not challenged, not learning something new, not getting great pleasure from my clients and their pets."
Hans was the first veterinarian in New Zealand to qualify as a Member of the Australian and New Zealand College of Veterinary Scientists in both cat and dog internal medicine.
Although his post-graduate training is in medicine it is his surgical repertoire that is most in demand from referring veterinary practices.
Hans now works part-time, splitting his time between clinical work and practice management. For many years Hans edited the magazine for pet owners PAWS for thought. Hans also gives time to the BESTPRACTICE™ committee of the NZ Veterinary Association, the committee tasked with improving the quality of clinical veterinary practice and which oversees the BESTPRACTICE™ quality assurance program for vet practices. In 2016 he received the Outstanding Service Award from the New Zealand Veterinary Association.
Hans finds Nelson is perfect for outdoor activities. Walking on the beach and in the hills with Hungarian Viszla Jack, sea swimming, biking and tramping, passions he shares with his wife Susan Stokes. He enjoys singing with the Nelson Male Voice Choir for something completely different. He always makes time for reading! Hans and Susan have two sons, Jens and Thomas. With both overseas that's a powerful reason to travel!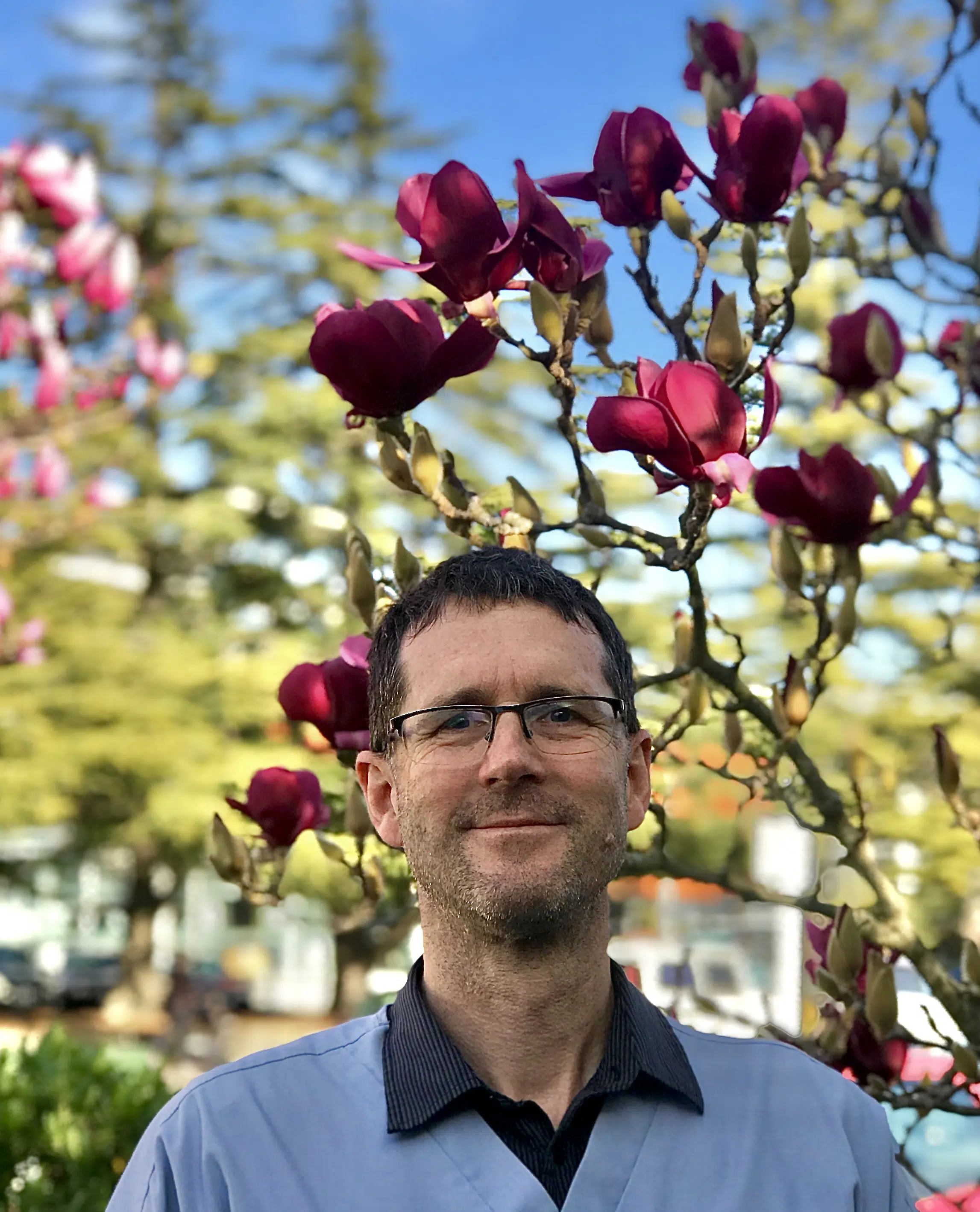 Todd Halsey
BVSc MVSc (Hons.) MANZCVS (Small Animal Medicine)
Todd joined the team at Halifax in 2003. Focus is one of Todd's strong points, in fact, Todd began to focus on his career in veterinary science at age 5. After watching several episodes of "All Creatures Great and Small" this was to be his life's ambition. Luckily lots of hard work (and perhaps a little too much socialising) paid off and this ambition became a reality. A Massey graduate of 1994 Todd spent his first years in practice in South Australia then returned to Massey University in 1996 to undertake a post-graduate training program in small animal internal medicine. He gained a Masters of Veterinary Science in 2000 after studying and researching critical care nutrition in dogs.
A member of the Australian College of Veterinary Scientists by examination in small animal medicine, Todd has acted as both examiner and mentor for prospective candidates. Currently, Todd is involved in referral medicine cases and diagnostic imaging and is pursuing an interest in diagnostic cytology and more recently dentistry. In June of 2007 Todd attended a PennHip® training program and is now one of an increasing number of PennHip veterinarians in New Zealand certified to perform this method for early detection of hip dysplasia in dogs.
Todd enjoys spending his spare time with wife Lucy and their three children Emma, Sam and Charlotte. Mountain biking, fishing and golf are some of his favourite activities. 
"Working at Halifax is an absolute pleasure – it not only allows me to follow my dream but I am blown away by the passion the team brings to enhancing the the relationship between owner and pet. Halifax certainly is at the forefront of enriching this bond and ensuring wellness is maintained throughout life".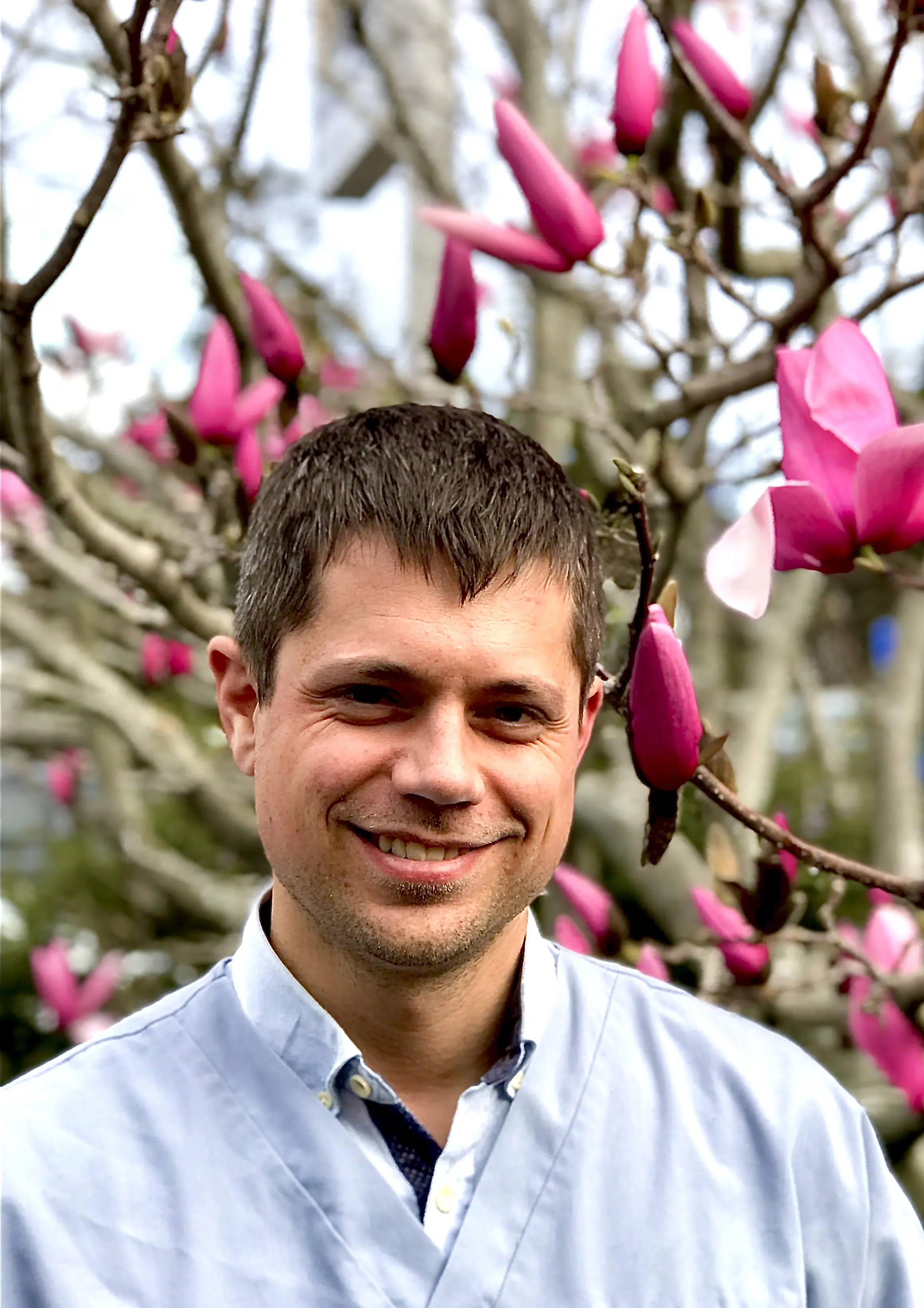 Dominik Berghamer
MVSc, NVE
Dominik joined the Halifax team in 2017. He studied in Vienna and worked as a mixed animal practitioner in Austria for several years. After meeting his now-wife Helena, who grew up in Nelson, they decided to move (back) to New Zealand. Having graduated overseas meant he had to go through the gruelling National Veterinary Examination process to have his degree recognised.
After passing all the necessary exams, he did a short stint at the Rural Service Centre in Takaka before Hans offered him his current position.
Dominik takes a keen interest in emergency medicine and surgery and (unbelievably) even enjoys after hour shifts.
When he isn't tied up with work and family life, he enjoys the stunning NZ outdoors either out on the sea or on top of a mountain.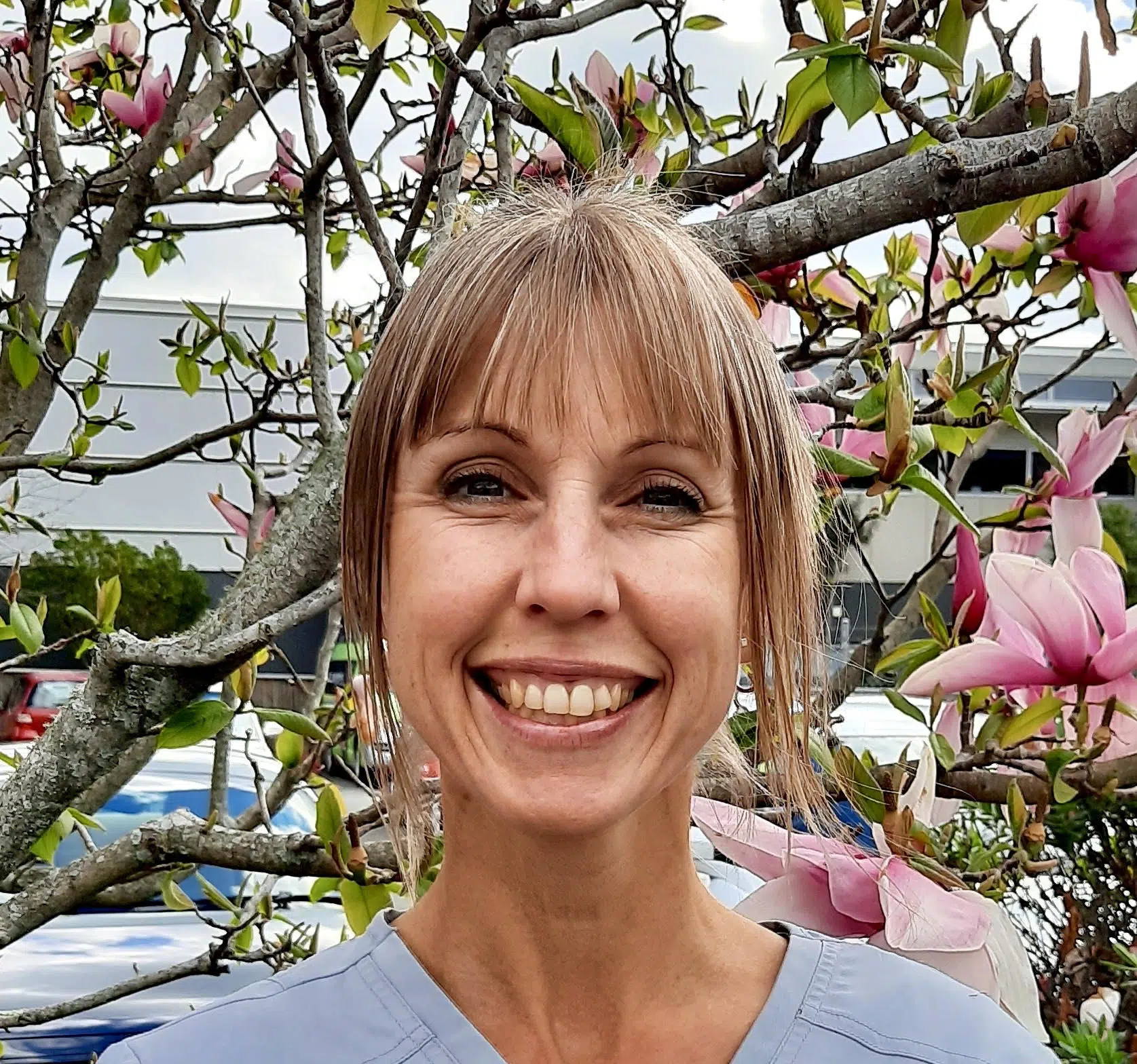 Kim Green
BVSc
Kim graduated from Massey University in 1999 with a Bachelor of Veterinary Science. She also completed additional qualifications in Emergency Medicine with the University of Sydney and a Marine Mammal Medic course to help stranded whales! She worked in Wellington for 2 years following graduation from vet school before locuming all over Australia and the UK for 9 years, returning to NZ in 2009.
Clinically, Kim is 'super passionate about doing the best I can for every pet in every way to ensure they are healthy, happy and pain free.' She loves helping all pets and their people and has a special soft spot for small furries like guinea pigs, rabbits and rats. This has brought her something of a loyal following among our owners of exotic pets and her extra gentle feline handling techniques also make her a favourite with owners of nervous cats (and our nurses!).
Outside of work Kim loves enjoying the sunshine, beaches and many outdoor activities that Nelson offers as well as Ceroc dancing and spending time with friends and family. She lives with her husband and an extremely spoiled cat.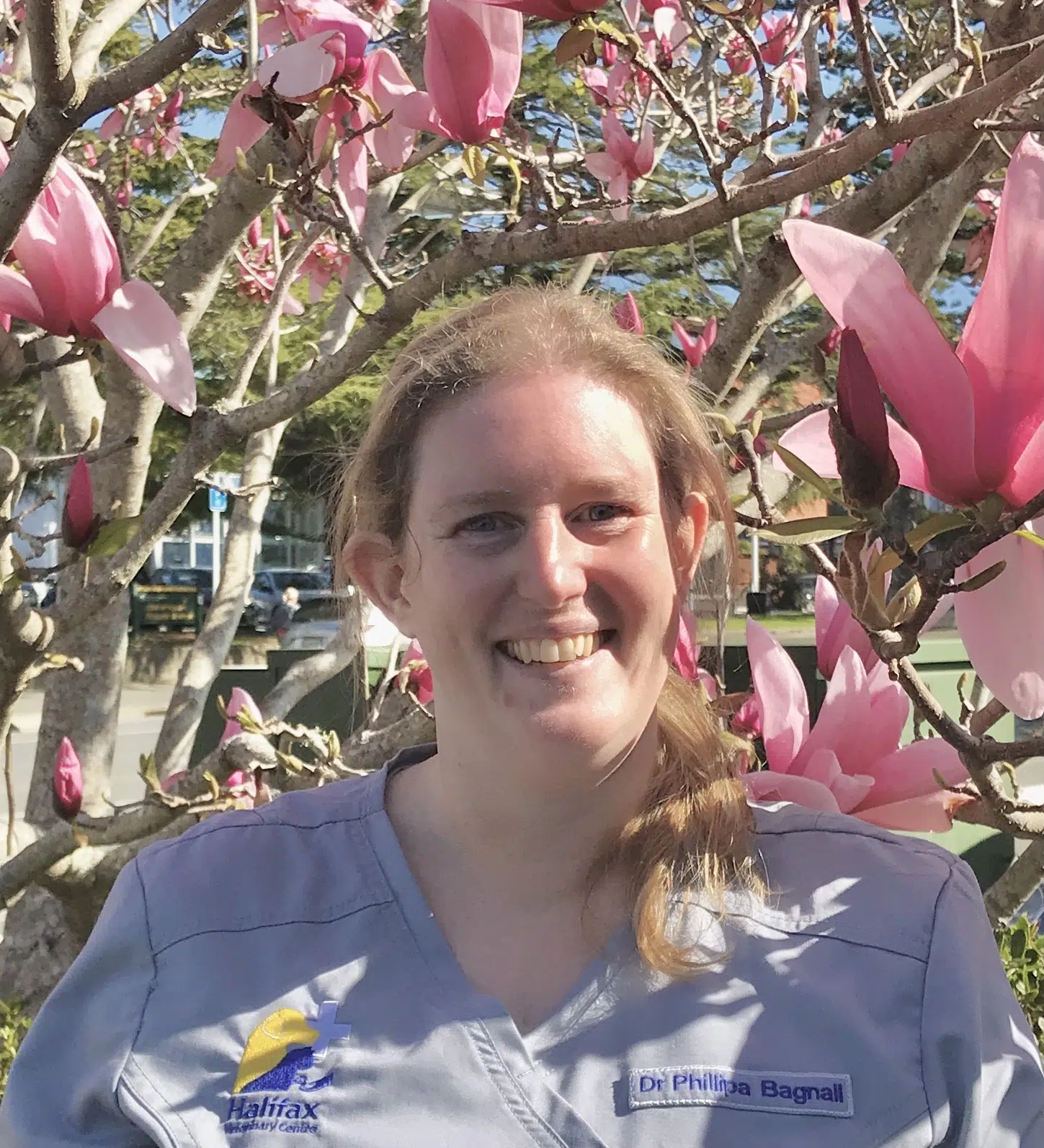 Phillipa Bagnall
BVSc
We are pleased and proud as punch to welcome Dr Phillipa Bagnall to the Halifax Vet team.
In a previous life Phillipa worked as a Vet Nurse in Australia then took the plunge and came back to NZ to go to vet school. Since her graduation in 2009 she has amassed a great amount of experience working in companion animal clinics in Auckland, Christchurch and Nelson, with a stint at an emergency clinic in Melbourne. Here Phillipa gained incredible skills in Emergency & Critical Care but found that she missed General Practice, especially the bonds developed with clients and their pets over the years.
Ever modest, Phillipa says she 'quite likes dentistry and is pretty [very!] good at it'. She also enjoys soft tissue surgery, emergency medicine and oncology.
'In reality though I actually enjoy all aspects of the job. Halifax Vet has an amazing reputation, not just in Nelson but throughout NZ, of high quality veterinary care, looking after clients, patients and staff. I did work experience at HVC when I was training to be a vet nurse over 20 years ago and it has been a dream to work here ever since.'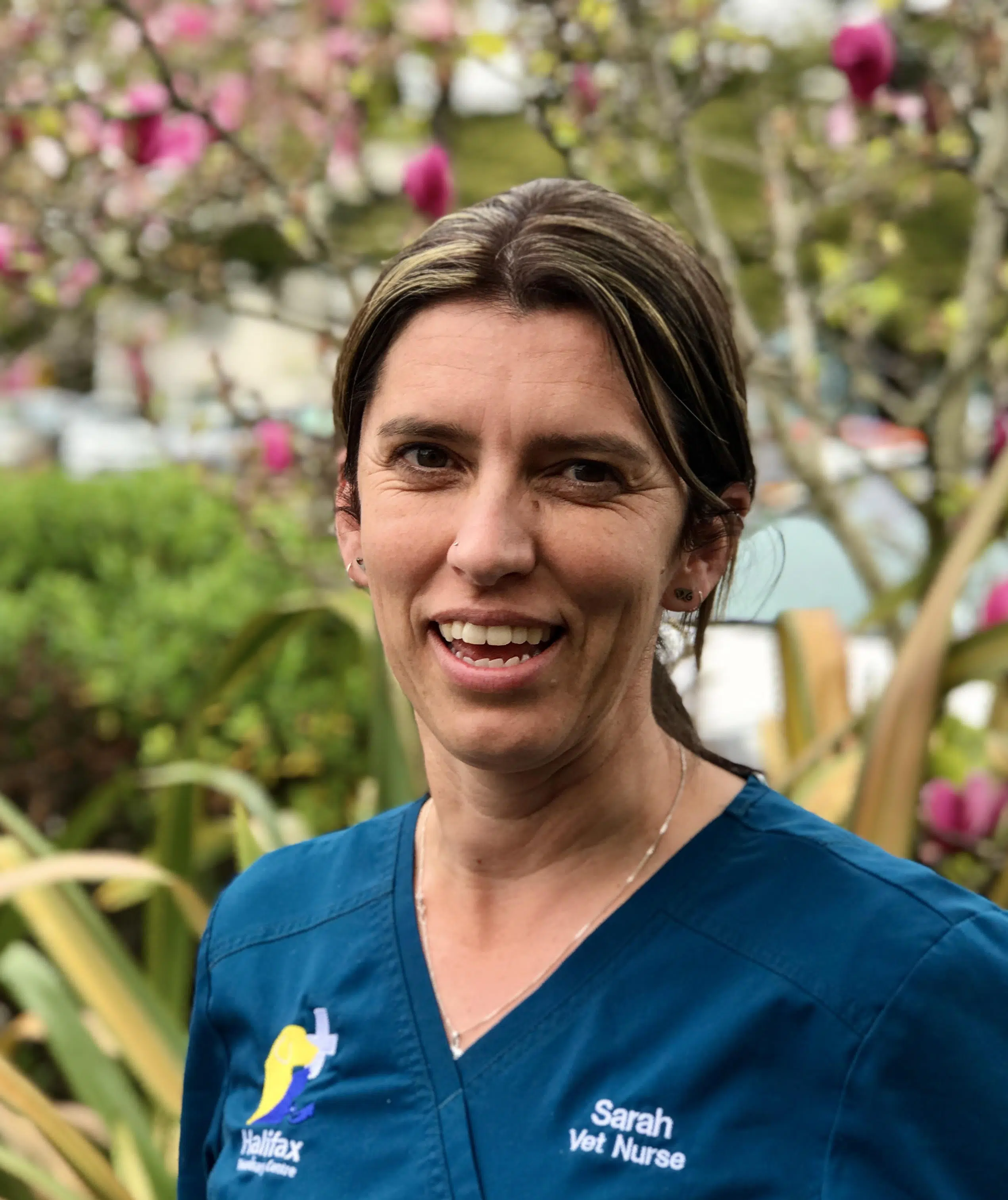 Sarah
Practice Manager
Sarah graduated from NMIT in 2001 with a NZ National Certificate in Veterinary Nursing. Upon graduation she worked simultaneously at both Motueka Vet Centre and Halifax but Hans gradually convinced her to join us full time. Sarah has continued on at Halifax, with short breaks to have her 3 beautiful children.
Sarah became the Head Nurse at Halifax in early 2020 and very soon afterwards took the reins as our Practice Manager. Sarah is an excellent, empathic leader for our entire team. She is passionate about hospital standards, ensuring that our patients receive the best care possible.
Sarah and her husband Richie are very busy, in addition to their three children they also have a Whippet, 2 cats and 2 guinea pigs to care for! Sarah greatly enjoys running and keeping fit. In her spare time she enjoys spending time with friends and family as well as gardening.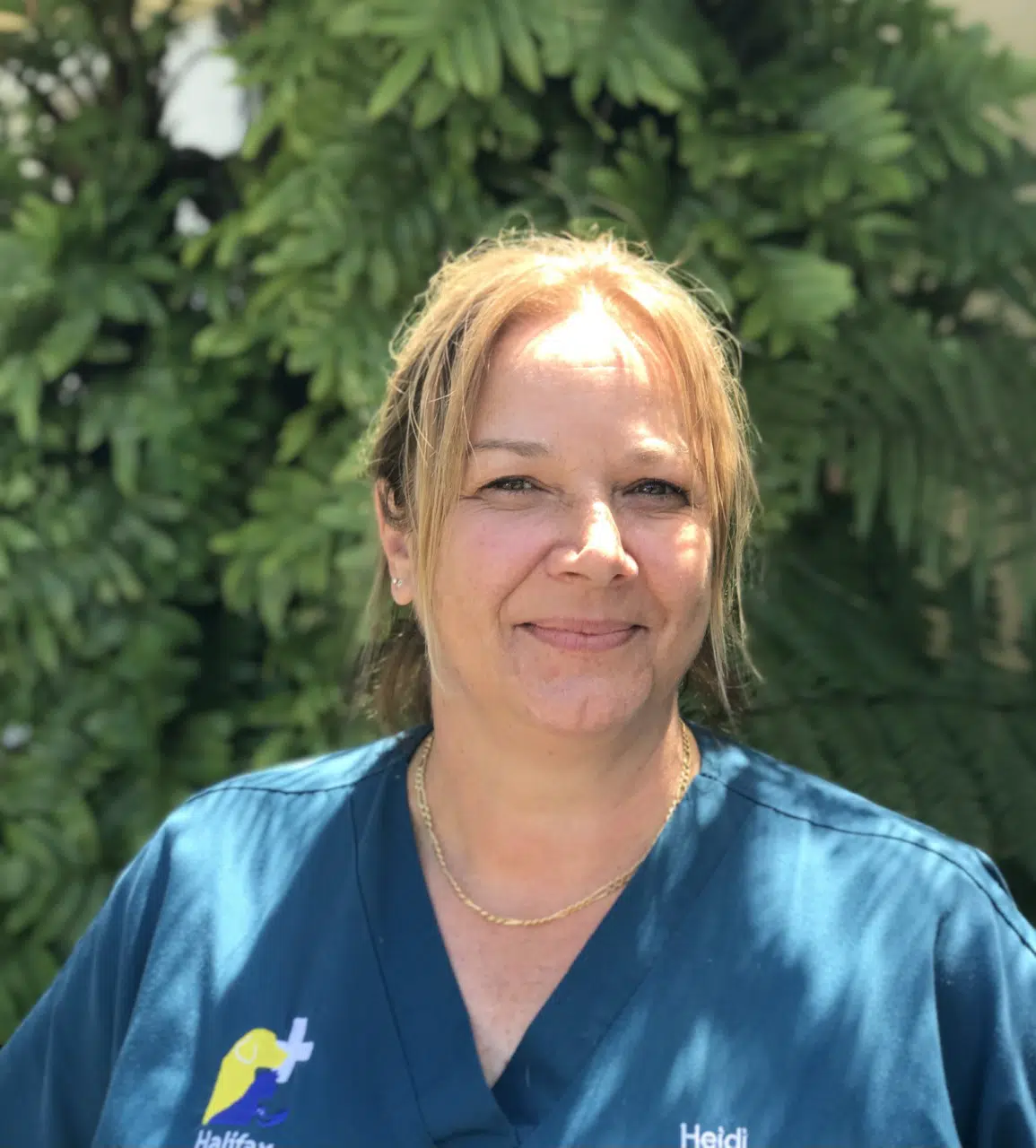 Heidi
NZ National Certificate in Veterinary Nursing
Heidi has worked at Halifax since she did her initial training, believe it or not, that was over 25 years ago! She is usually the first one in the clinic, taking care of all hospital patients and early surgical admits.
Ensuring that all animals in the clinic get the best care possible is her favourite part of the job. Heidi is also in charge of the logistics at Halifax, she is the one who makes sure we don't run out of supplies, drugs and food.
Together with partner Steve she looks after a family of 2 kids and 2 cats.
Playing netball is a favourite past time of Heidi's, as well as providing a parent taxi service for all sorts of sporty activities.
Vania
NZ Diploma in Veterinary Nursing
Vania graduated from UCOL in Palmerston North in 2005. She had spent a few years working in a pet store before being offered a position at Halifax while she was on site for her vet nurse training! Vania enjoys all aspects of vet nursing, however being in surgery for the more difficult procedures is definitely her happy place – made all the more exciting for her when involving exotic pets. Vania takes a special interest in exotics and hopes to complete a further qualification in this area of nursing soon.
In her spare time Vania enjoys sitting in the sun with her rescue dog Spud and bearded dragon Rogue. She also loves great coffee, good books, her x-box and getting out and about on her bike. She has quite the mini zoo at home,  in addition to Rogue she has Geoff the leopard gecko and 2 cats –  Ice and Ninja.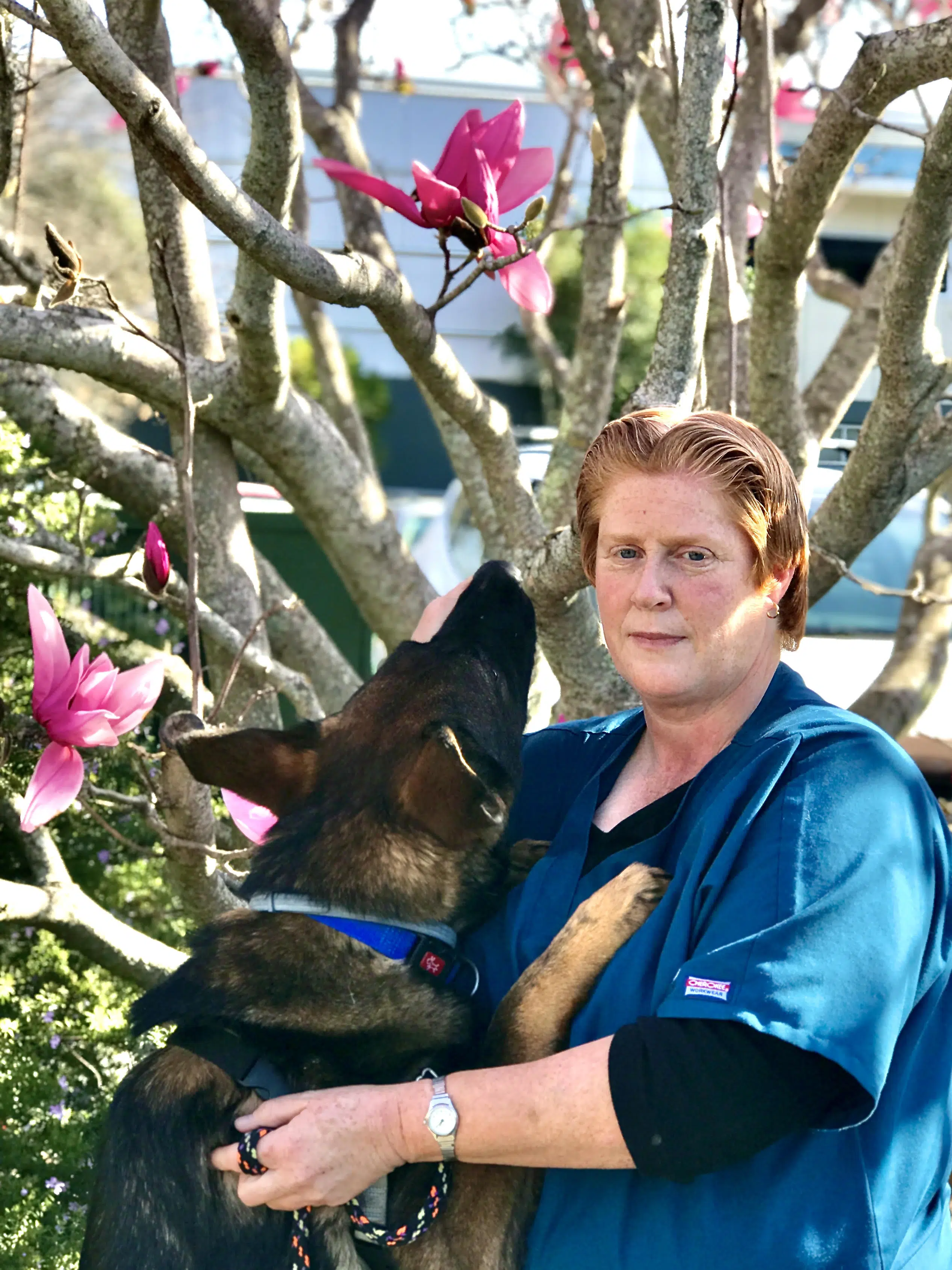 Michele
NZ National Certificate in Veterinary Nursing
Michele graduated from Nelson Polytech in 2000 with the NZ National Certificate in Veterinary Nursing and joined the team at Halifax the same year, meaning she has been with us for 20 years!
Michele particularly enjoys being involved in surgical procedures, something she gets to do a lot at Halifax! She is super passionate about working with dogs, particularly German Shepherds as she is something of a GS aficionado.
With an intense interest in Canine Behaviour, Michele spends her spare time helping other dog owners train their dogs and also enjoys competing in obedience competitions.
Michele shares her home with her lovely young German Shepherd, Solo, and an elderly Jack Russell cross named Tyke.
Chrissie
BPhEd (Exercise Prescription), NZ National Diploma in Veterinary Nursing
Chrissie graduated from the University of Otago in 2005 with a Bachelor in Physical Education majoring in Exercise Prescription. She then went on to complete her National Certificate in Veterinary Nursing (2009) and National Diploma in Veterinary Nursing (2011), both at Otago Polytechnic.
Chrissie has nursed in various places all over the South Island, from Dunedin to Greymouth! In 2010 she took on the Head Nurse position at the illustrious McMaster & Heap Veterinary Practice in Christchurch, where she was able to indulge her passion for being closely involved with anaesthesia and surgical procedures on a daily basis. She joined the team here at Halifax in February of 2020.
As 'Mum' to Freya and Oscar, Chrissie doesn't have an awful lot of spare time. When she can find a moment she loves mountain biking, tramping, boxing and sea kayaking in addition to spending time with her beautiful family.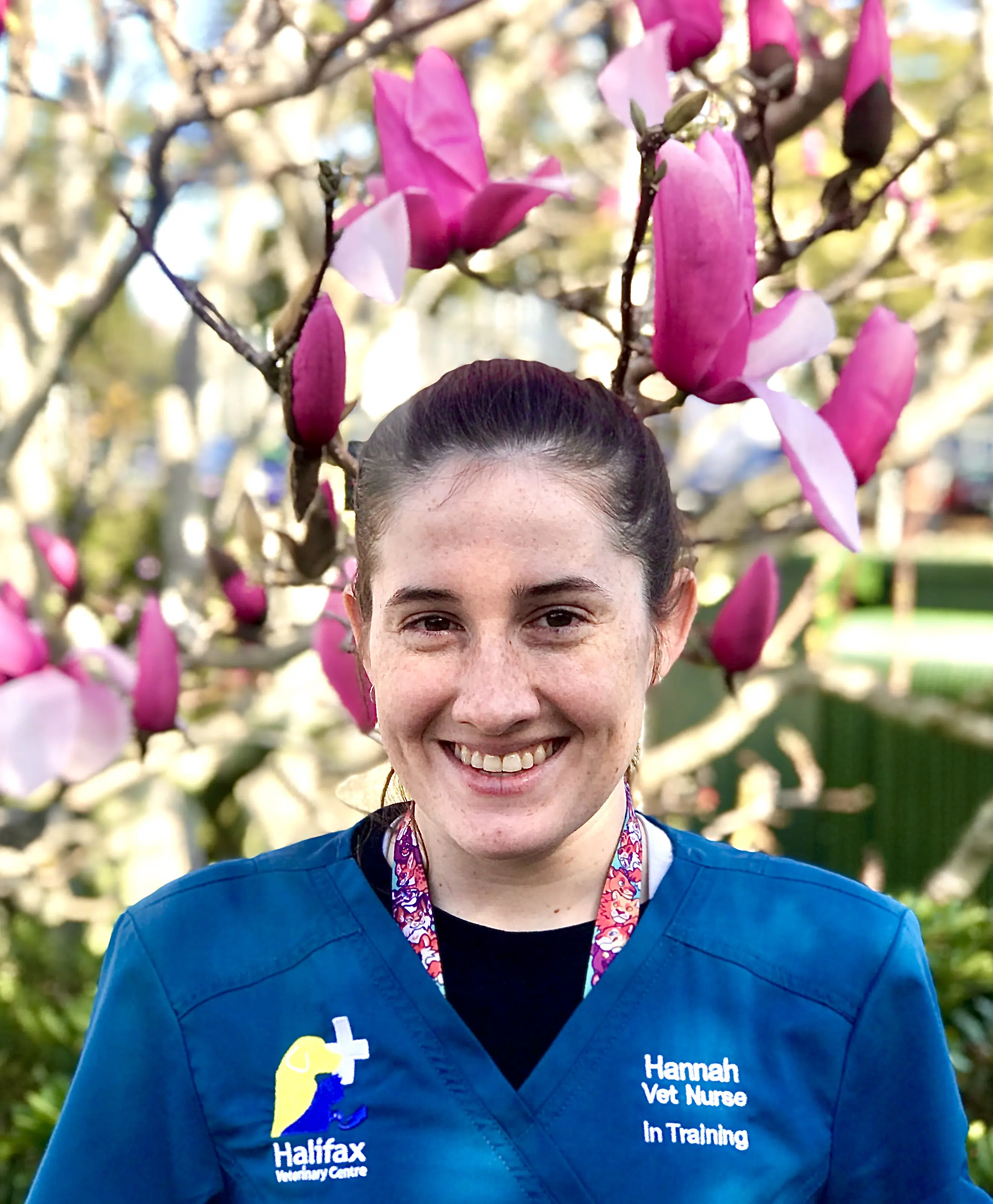 Hannah
National Certificate in Animal technology, Veterinary Nursing Assistant
Hannah has completed a Certificate in Animal technology, Veterinary Nursing Assistant (level 5) through Otago Polytechnic. She is currently studying for her Level 4 Advanced Canine Behaviour Diploma through the British College of Canine Studies. She works at Halifax part time while completing her studies and we are certainly happy to have her sunny disposition around!
Hannah is in charge of our Puppy Preschool and Puppy Primary classes and really enjoys this as she loves both people and the study of canine behaviour.
A born and bred Nelsonian, Hannah is owned by a naughty tabby cat Rue – an adoptee from the clinic who was brought in as a stray and ended up going home with Hannah.
Hannah loves walking dogs, yoga and binge watching TV shows as well as keeping all of the staff on our toes with her quirky sense of humour.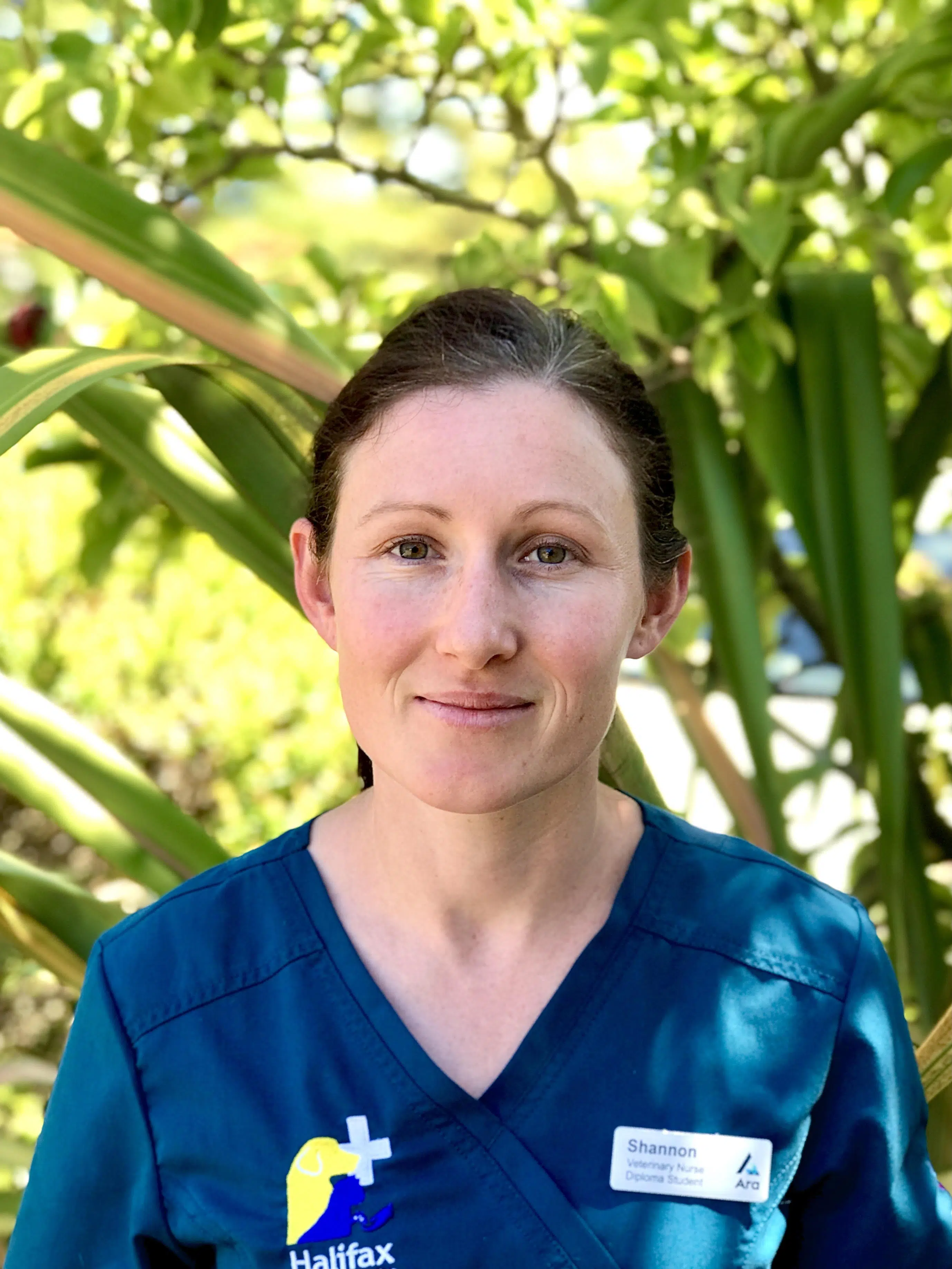 Shannon
NZ National Diploma in Veterinary Nursing
Shannon graduated from the Ara Institute of Canterbury in 2020 with a New Zealand Diploma in Veterinary Nursing. She was then snapped up by one of the clinics she did work experience with while a student so we were very lucky to convince her to come and join us at Halifax in December 2020.
Shannon particularly enjoys running our free New Puppy consultations as they give her a chance to really get to know owners and their new babies and offer very useful advice at a stage it can make a real difference to both. She also has an interest in senior health and arthritis management, which we hope to channel into an arthritis clinic very soon.
Shannon enjoys social soccer and touch (possibly more for the beer afterwards than for the game) and outdoor adventures such as tramping, camping, boating and diving. She is the proud mother of 'the best tabby cat', Harley, who was rescued from a drain as a tiny kitten. He is now not so tiny (she confesses he may actually be slightly overweight) but still brings joy to the household every day.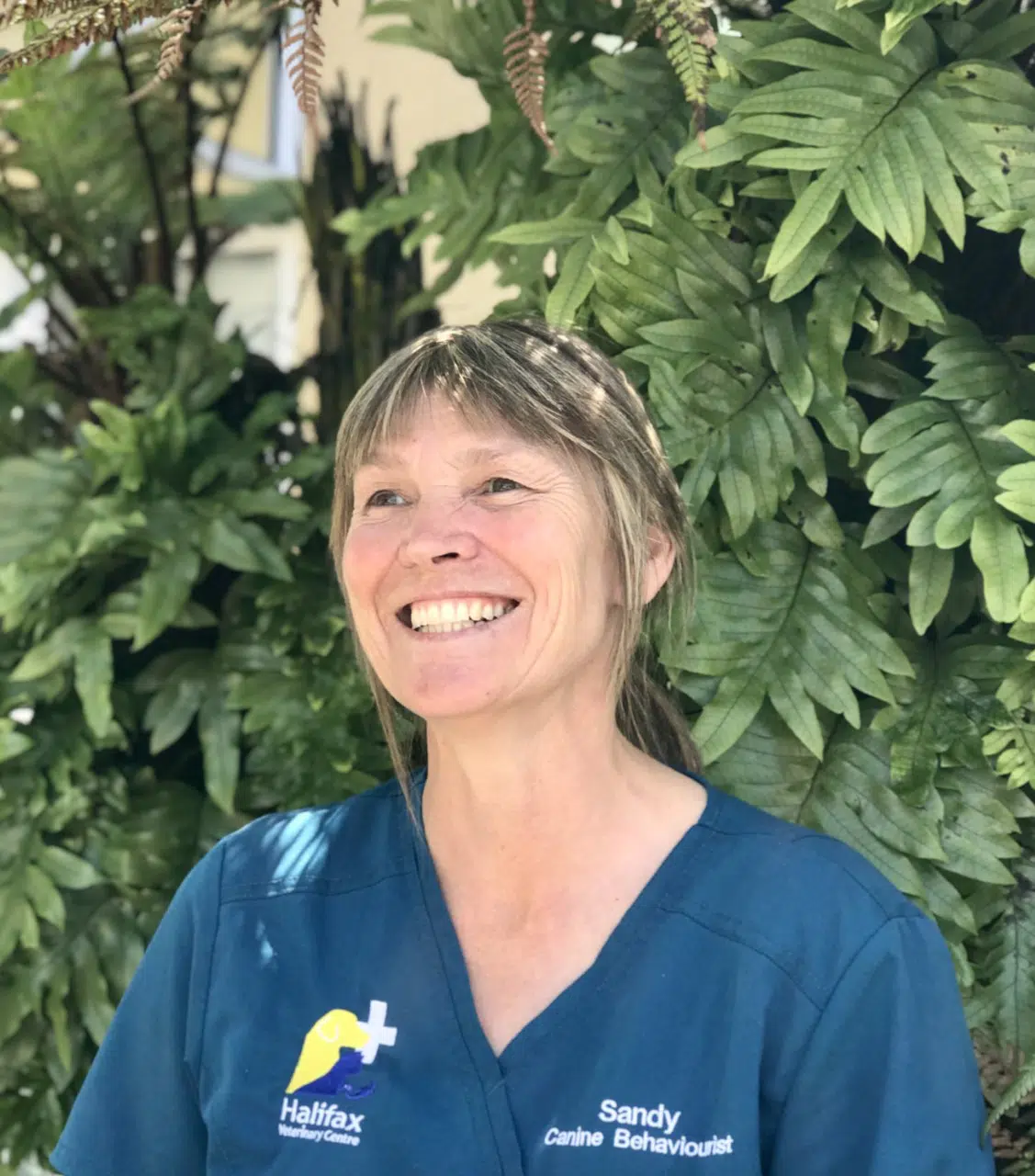 Sandy
Canine Behaviourist
Sandy is our qualified Canine Behaviourist. She joined us in 2021 and is an absolute pleasure to work with for both humans and dogs. Sandy holds qualifications in both Veterinary Nursing and Canine Behaviour and has years of experience in both fields under her belt.
Sandy not only offers Canine Behavioural advice and Modification programmes but also has the practical skills needed to enable her to work more closely with owners and their dogs by providing a Day Training service for dog owners struggling to achieve the desired positive behavioural results on their own. These services are tailored to enlighten, empower, and enable owners to have a major positive influence and impact in the life of their dog and ensuing behaviour. Sandy works both in-clinic and off-site in owners' own homes.
"Understanding your dog and knowing how to control him, develop his potential and resolve behaviour problems, emotional conflicts and frustrations are no less essential than love and respect".
Michael W Fox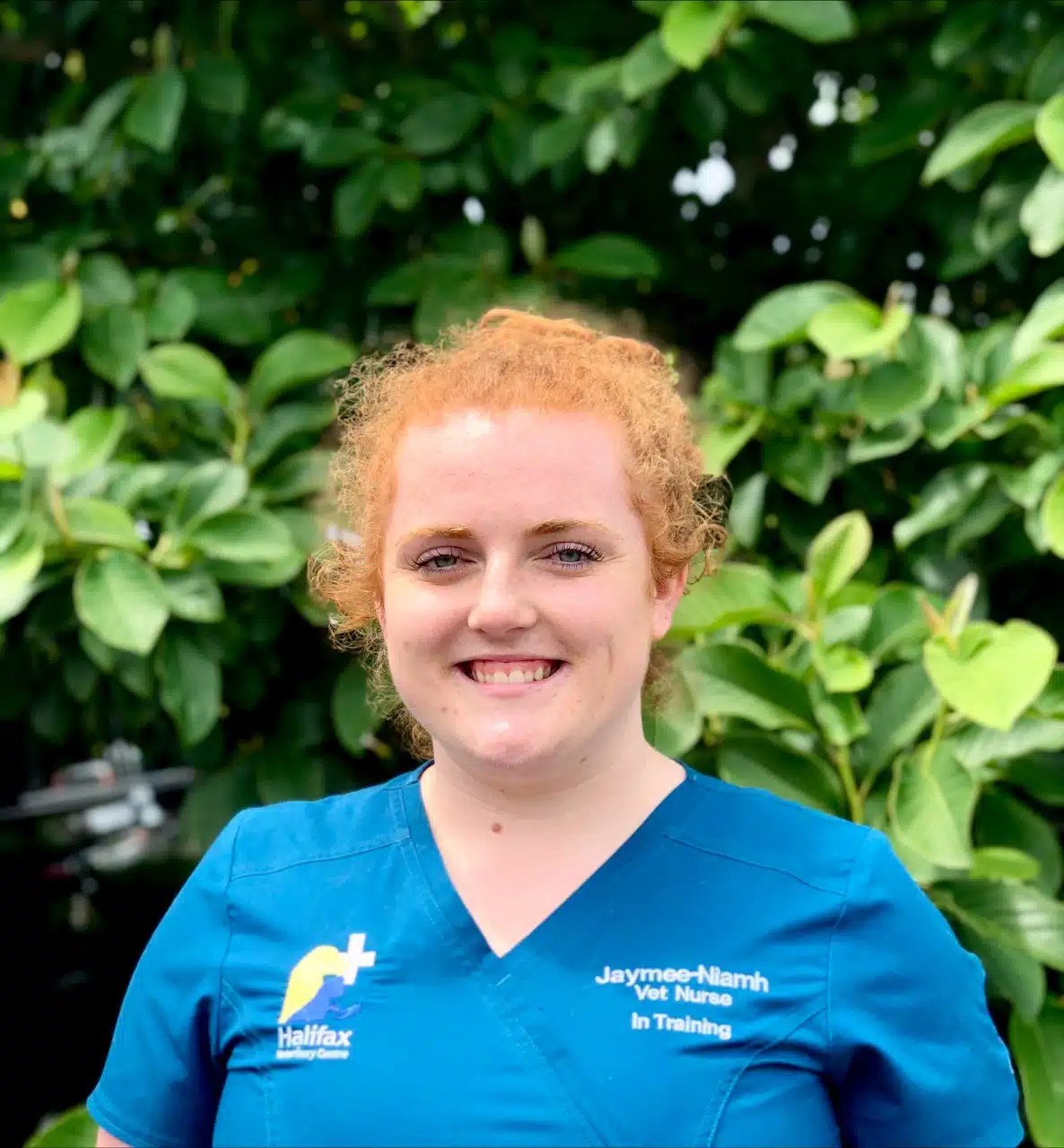 Jaymee-Niamh
NZ National Diploma in Veterinary Nursing
Jaymee recently completed her study with Otago Polytechnic for her Certificate in Animal technology, Veterinary Nursing Assistant (level 5) and Diploma in Veterinary Nursing (Level 6). In 2023 she proceeds to study the Bachelors of Veterinary Nursing (Level 7) through Eastern Institute of Technology/Otago Polytechnic. Luckily for us this will be distanced study, so we get to have a smiley face here with us in Nelson!
A born and bred Nelsonion, Jaymee lives with her mum, sister, two cats, and a Havanese dog. 
"My passion is animals. I have always loved animals, and have surrounded myself with them my whole life. I grew up with cats, and dogs, and have always loved horses and horse riding, although have not done this for a few years. I love to draw, and do puzzles, read books, go for hikes in the hills with my grandad, and just generally get out in the fresh air. I am also really family and friend orientated, whilst I enjoy my own time to recharge, I love a chilled night in with family and friends, or going out and doing activities/dinners.  Being surrounded by good people makes me happy, as well as nice weather, and doing things I love.
I love being able to constantly learn new things, and put into practice what I have learned during my study. It is surreal that I get to work in such an encouraging, friendly environment, that is dedicated to giving the best care to the animals. The staff are amazing, and have helped me through my study, and Hans is amazing and I can't thank him enough for giving me this job. It is a privilege to work here."