Dear clients,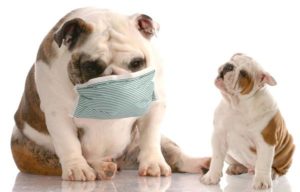 We are now in Level 4 at Halifax Veterinary Centre. Veterinary practice is classified an essential service, but we must restrict our activity to what really is essential – treating the ill and the injured.
Sadly, there will be no face-to-face interaction with clients in the building.
If your pet is unwell and needs veterinary attention, please call the clinic so a nurse can book either a telephone consult or a drop off appointment with a vet. PLEASE DO NOT JUST TURN UP AT THE CLINIC.
If you or anyone in your bubble is unwell or in self-isolation you MUST advise us over the phone, we have extra protocols in place for this situation.
Some pets will need to be brought to the clinic for a physical examination and treatment. In these cases, when you arrive at the clinic please wait in your car and phone reception for further instructions.
When instructed to do so, you will leave your cat in a cage at the door, or bring your dog on a leash and attach them to the leash we have at the front entrance, taking your leash back to the car with you. You must wear a mask and wait in the car once you have dropped off your pet.
Over this time, we will operate the veterinary emergency service just as we do for after-hours emergencies. Just phone our usual number 5483871. 
At the last Covid 4 lockdown we found managing euthanasia to be the most difficult area of practice. If you have concerns about the end-of-life decisions for your pet, please call and discuss this with us in good time so that we can make the best plan possible for your circumstances.
Please see our online shop for food and other essential items. This is the best option for contactless payment and delivery.
Our clinic will expect to still provide essential food and medical supplies. Please phone ahead and we can take payment over the phone and bring the supplies out to a drop off point in our carpark. If you would like to make online payments collection will not be available until the next day.
Routine matters such as vaccinations and nail trims will be deferred until the Level 4 is reduced.
Repeat prescriptions
If you need a repeat prescription, you MUST phone the clinic in advance. In most cases your prescription will be ready for collection the following day. Please advise if this is an urgent prescription as there will be an extra charge for this. Card payment over the phone is preferred but we can organise online payments.
You may experience longer wait times than usual as we will be short-staffed. Our staff are working as two completely independent teams as they cover the 7 days of the week. We thank you for your patience during this challenging time.
Hopefully this will be just a short, sharp lockdown in which we, the team of 5 million, all do our bit so we can quickly return to the glorious Covid-free paradise we have enjoyed for so long.